7607 Forest Avenue Suite 410
Richmond, VA 23229
Phone: (804) 200-7062
Fax: (804) 200-7063

About Virginia Gynecologic Oncology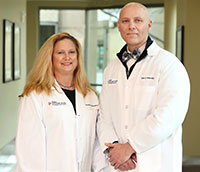 At Virginia Gynecologic Oncology—part of the HCA Virginia Physicians network—we offer you expert gynecologic oncologists who provide the most advanced care possible. Our surgeons are specially trained physicians who are experienced in caring for women who have been diagnosed with gynecologic cancers—including cervical, endometrial, uterine and ovarian cancer. Our goal is to provide advanced cancer treatment and continued emotional support to ensure the best possible outcome and restore your quality of life.
For more information about our gynecologic oncology services at Virginia Gynecologic Oncology, call (804) 200-7062.
Complete gynecologic cancer care in Richmond
Virginia Gynecologic Oncology is part of the Sarah Cannon Cancer Network Gyn-Onc Signature Program at Henrico Doctors' Hospital, which recognizes programs who provide the highest quality of care to the patients they serve and lead with clinical expertise. The program is accredited by the American College of Surgeons (ACOS) as a Comprehensive Community Cancer Center and The Cancer Center has also received the ACOS Outstanding Achievement Award, for outstanding, patient-centered care.
Our team guides you through the process of determining the least invasive and most effective treatment options. As a new patient to the practice, you will be scheduled promptly for evaluation and treatment. We will work together to restore your quality of life and give you the emotional support you need—treating not only the disease, but you as an individual as well.
Your body is unique, and cancer affects each patient in a different way, which is why our team will customize your care to give you the best possible outcome.
Our approach to care
Our staff understands how overwhelming a cancer diagnosis can be, which is why we are here to support you every step of the way. Our team is dedicated to providing:
A multidisciplinary approach to cancer care from a team of specialists
An individualized treatment plan to fit your unique needs
Guidance through all phases of care, including planning, surgery and recovery
Meetings with your cancer care team for progress updates
Minimally invasive robotic surgery (when possible), to reduce pain and scarring
Personalized, compassionate and attentive care
Support from social workers and counselors
Cancers we treat
Through our oncology program, we provide patients access to treatments for multiple types of gynecologic cancer, including:
Cervical cancer
Endometrial cancer
Ovarian cancer
Uterine cancer
Vaginal cancer
Vulvar cancer
Our practice locations
Our team provides care at three convenient locations including Richmond, Williamsburg, and Fredericksburg.
Richmond
7607 Forest Ave., Suite 410
Richmond, VA 23229
Williamsburg
5388 Discovery Park Blvd., Suite 120 - A
Williamsburg, VA 23188
Fredericksburg
4701 Spotsylvania Parkway, Suite 203
Fredericksburg, VA 22408